Several members of the Lakewood Township Planning Board have conflicts of interest that prevent them from voting to approve the  project, according to board attorney John Jackson. Between those members with conflicts and two others who were unable to attend a Tuesday night meeting, the board did not have a quorum to vote on the development plan.
The current members are:
Mayor Raymond Coles
Justin Flancbaum
Committeeman Albert Akerman
Angela Zografos
David Garfield
Eli Rennert
Hector Fuentes
Yechiel Herzl
Levy Isaacson
Jacob Meyer
Bruce Stern
Chaim Sabel
Yechiel Herzl
Here are the names of the conflicted individuals:
Hector Fuentes, the new planning board member, 

was seen 

visiting Shaul 

Mizrachi

'

s office. Use your imagination as to what the conversation was about …now he cannot vote.

Levy Isaacson – he does all the painting jobs for the builders
Eli Rennert  –  an employee of First Commerce Bank. He facilitates  loans and mortgages for GDMS.
Justin Flancbaum – ידו בכל ויד כל בו … and he is a member of the  MUA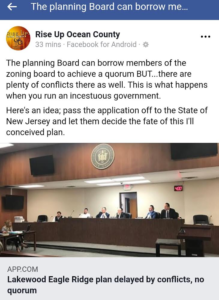 So Jackson rescheduled the project proposed by The Parke at Lakewood to be considered by the planning board on April 2. In the meantime, he said, he'll continue evaluating other members for possible conflicts.