In continuation of: Shocking Collusion !!!
In a nut shell: 10 days after the seniors sued the Lakewood Township for the Masterplan, the builders (Mizrachi & Lichteinstein) go ahead and sue the township. They demand all restrictions to the new masterplan be removed so they may go ahead and build on the former Eagle Ridge Golf Course.  The same judge takes both cases and does not notify the seniors about the other case. Total silence. The seniors find out months later, once the judge has already ruled in favor of the builders ( Mizrachi & Lichteinstein ).
Now that the masterplan is not in their way, Shaul Mizrachi & Meyer Lichteinstein go ahead and appeal to the planning  board to approve this monstrous overbuilding on Cross Street. It is scheduled to be heard this Tuesday night.
In the  lawsuit and application to the Planning Board it does not mention the names nor addresses  of Shaul Mizrachi & Meyer Lichteinstein; the use the names  Augusta Holdings, The Park at Lakewood or Moshe Sternstein and the addresses are the office of  Adam Pfeffer Esq, 752 Cross Street or 418 Clifton Avenue, Suite 205 which belongs to KBS Capital Partners.
Why isn't GDMS mentioned on any of the new documents? What are Shaul Mizrachi & Meyer Lichteinstein hiding now??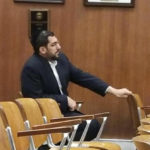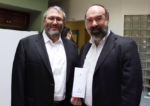 Many on the planning board and someone on the  township committee  have a direct financial interest…..  in this endeavor,  therefore  cannot vote for this application. The trick is to put it under a fake name, like this it appears to the public as if there is  no conflict of interest, hence they may vote on it.
After the vote, we will advertise the names and  details of these conflicted individuals.
Will the FBI look into the this matter?? Will the feds be at the meeting this Tuesday night??
[pdf-embedder url="http://jleaks.com/wp-content/uploads/CivilCaseJacket.pdf"] [pdf-embedder url="http://jleaks.com/wp-content/uploads/MX-M453N-20190201-121128.pdf"]
[pdf-embedder url="http://jleaks.com/wp-content/uploads/SP-2310-Application.pdf"]