Elections in a democracy should be transparent and fair. Every county has an election board that supervises the election so to insure it is run fair and square.
The current Ocean County board members are:
George R. Gilmore , Chairman
Wyatt Earp , Secretary Commissioner
Rabbi Israel Schenkolewski , Commissioner
Matthew R. Sage, Commissioner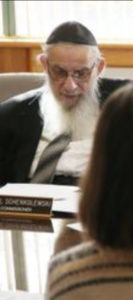 The 'King of Ocean County' Mr. George R. Gilmore is the chairman of the Ocean County Republican Club. He decides who is who in Ocean County. He has been under federal investigation since 2016.
The vast majority of attorneys employed by towns located in Ocean County are all from his office – including the attorney for the Township of Lakewood Mr. Secare.
Rabbi Israel Schenkolewski who is the head of the biggest voting bloc in Lakewood 'The Va'ad' is the commissioner of the board of elections. He campaigns heavily for his handpicked candidates, then supervises the election to make sure they get elected by hook or by crook. Stalinism at its best.
You can't trust a cat to guard the cream.