Lakewood Committeeman Menashe Miller does not like transparency in government. He will avoid transparency like the plague. On the first of January, 2019 Mr. Miller was subpoenaed by the parties to a defamation lawsuit so to clarify  the involvement of  the Township of Lakewood in various business deals. Mr. Miller is not part of this lawsuit in anyway, but instead of giving over the information and walking away, Mr. Miller is fighting to keep it all under the radar by asking the court do quash the subpoena because as we said, Miller is strongly opposed to all transparency in government and for good reason. He knows that if information goes public he will be in a LOT of trouble.
And who is the one that is representing Miller in court? Kelaher, Van Dyke & Moriarty. That is non other then the Mayor of Toms River Mr. Kelaher himself.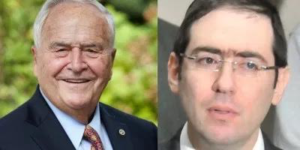 Doesn't Kelaher know that he is going to face another election in just a few months?
This might be another indication that Kelaher is not planning on running for office  again
[pdf-embedder url="http://jleaks.com/wp-content/uploads/Doc-22-Miller-cross-motion-to-quash-2-20-19.pdf" title="Doc 22 Miller cross-motion to quash 2-20-19″]
Hypocrisy At It's Best
It was two years ago when then Lakewood Mayor Menashe  Miller has demanded an apology from Toms River Mayor Thomas P. Kelaher over published comments from the mayor referring to recent real estate issues as "an invasion."
"I was appalled to read yesterday's Bloomberg report regarding the increasing number of Orthodox Jews who have purchased homes in Toms River, or who are considering doing so," Miller wrote in a March 15 letter distributed to media outlets in addition to being sent to Kelaher directly. "You are quoted as follows, verbatim: 'It's like an invasion. It's the old throwback to the 1960s, when blockbusting happened in Philadelphia and Chicago with the African-American community — 'I want to buy your house. You'll be sorry if you don't.' It scares the hell out of people.' "
"It is my hope the you will sincerely apologize for your hurtful comments and turn the page in the relationship between our respective municipalities and communities. All of our residents deserve a brighter future," Miller wrote. But when you need to save your a– you will do anything including engaging the services of your enemy.
  Mayor Kelaher was the Ocean County Prosecutor for five years and the Assistant Attorney General of the State of New Jersey. He would  know how to convince the officials not to prosecute Mr. Miller.