מאיר ליכטענשטיין מאכט חוזק פונעם בעלזער דיין הרה'ג פנחס וינד שליט'א
Satmar ( zaly)  came to the Planning Board requesting to build a Shul with a full simcha hall  on  West Kennedy Blvd   without any parking. The planning board members all objected to this rightfully so, including Rabbi Chaim Sabel who is a member of the Belzer community of Lakewood.
Meir Lichteinstein goes ahead and calls the  Belzer Dayan and after giving it to him on the head, he  demands that the Belzer Dayan call the Satmar Dayan and apologize. The Belzer Dayan does as he is told and calls the Satmar Dayan to apologize.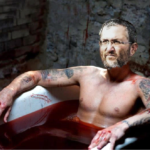 Rabbi Yisroel Schenkolewski Threatens Teenage Girls
Mr Louie Follman gets a phone call from Yisroel Schenkolewski the principle of Beis Keyla  where his two daughters attend. Shanky demands that he vote yes on the master-plan. Louie says no. After a heated discussion Yisroel Schenkolewski says to Louie ' If you vote against the master-you are jeopardizing the safety of your children'.