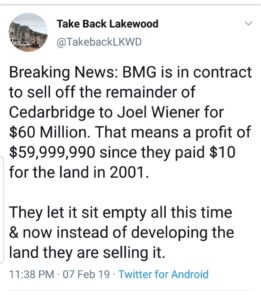 So why is Aaron Kotler selling it to Joel Weiner?? What does he have in common with the man? Who is this Joel Weiner? A simple search on Wikipedia will give you all the answers
'As of 2006, Wiener had been personally sued 84 times. His company has been the "subject of criminal investigations by the Manhattan district attorney and the state attorney general's office; it has been denounced by Representative Charles B. Rangel and other politicians". Wiener "has a reputation for being ruthless among many tenants".'
There are no records of campaign contributions from Pinnacle, but Wiener likes to cultivate influential political allies. "Their strategy is to say they have friends in high places," said former Councilman Perkins, who was approached for support by Wiener while he was in office.
Perkins says he received a call from Ken Fisher, a lobbyist from a politically connected Brooklyn family, to tout Pinnacle's merits. Earlier this year, Pinnacle also made a $500,000 contribution to Youth Turn, a group run by Rev. C. Vernon Mason, a disbarred lawyer and ally of Rev. Al Sharpton. But most of Wiener's sense of entitlement comes from within. "He's extremely aggressive," said Spalter, the Riverdale resident who fought Wiener successfully. "Any group that wants to fight Joel has to have several fronts going on at once."
Any decent person would not get involved in such a shady deal that requires a lot of grease money to many shady individuals   … in order to keep it all flowing- the permits, approvals, tax abatements and more. But in Lakewood Mr. Weiner would feel right at home….