20 years ago Rabbi Zalmen Sorotzkin opened a shul in the basement of his home. It serviced the 12th street andMonmouth area. Shabbos morning prayers started at 9:45, majority of the crowd walked in after shachris. A full lavish- 3 course Kiddush was served every week while Rabbi Sorotzkin gave a small dvar torah.
The synagogue moved to the westgate area. It attracted an ערב רב of people. Justin Flancbaum was appointed president and Gabbai. He is the only gabbai in Lakewood who let his hair grow wild. Lately he is trying to put on a more frummer image so to gain the frum vote so he grew a beard a trimmed his hair. Justin was the chairman of the Master-plan committee gets paid $180,000 + benefits from the MUA. His fafther who is a real estate broker is also on the MUA board.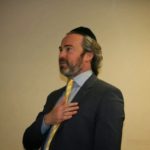 The Esteemed Gabbai
His maternal grandfather was a frum Hungarian Jew who survived the holocaust. His mother had a religious upbringing. After years of marriage she decided she wants to become a model and live a free life… so she divorced his father. Her Father was deeply hurt by this until the end of his days.
Justin is well connected with the powers in town. Pfeiffer and Goldman Esq. went to Lakewood Day School together. Senator Singer is his godfather and mentor. Singer has groomed Justin to be his successor. Justin joins Singer to all Ocean/ Monmouth county political events where they enjoy the cuisine of sea food and wine…..
Justin married a nice religious girl from Highland Park. He had an affair with a non-Jewish woman and had a child out of wedlock. Eventually he divorced his wife and married his mistress after a conservadox conversion.
So you tell me – Is Lutzk A Beis Medrash or A Temple ??