State Senator Mr. Bob Singer was born in New York City on October 29, 1947. He grew up in New York attending public schools there. From 1966 to 1972, he served in the U.S. Coast Guard Reserves. His parents kept a Jewish traditional home. He went on to marry Jewish woman by the name of Judy Singer with whom he had his first daughter Sarah. Eventually they moved to Lakewood where Bobworked as a repairman, mainly fixing vendor machines. Eventually he started a romance with Caryl Lynn Russo, who was a young divorcee. Caryl was the daughter of Mr. Rusoo who was the king maker of Ocean County and Bob knew that this was his opportunity to make it big in life. He did all that he can to acquire her love and eventually Caryl fell in love with him. He converted to Catholicism and now that he was a משומד למהדרין, he moved in with his new שיקצע. He told the stunned Judy goodbye and married the former Caryl Lynn Russo. Caryl and Bob have three children together.
Judy was SHOCKED. They had a beautiful marriage and Bob exchanged it for a position of power. Their daughter Sarri Singer moved to Israel at the end of 2001. Sarri became a victim of terror on June 11, 2003 when a teen-age suicide bomber blew himself up on the Jerusalem bus #14 she had taken to meet a friend for dinner. Sarri was severely injured. While she was lying unconscious in Shaarei- Tzedek hospital her father rushed to her bedside for a photo op . The next day he was back in the US. She does not have anything to do with her father and has not seen him in years. Bob wanted to seize the opportunity for a little PR. When she recovered, rather than harbor resentment or hopelessness, Sarri founded Strength to Strength, a global haven for victims of terror; a network for survivors to heal, become empowered, and move forward to build a culture of peace.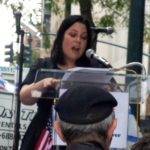 Currently Bob and Caryl reside in Point Pleasant. He still owns a home in Lakewood which is vacant most of the time. Him and his wife are members of the St. Peter's Catholic Church of Point Pleasant.
Bob's powerful father in law got him elected to lower house of the New Jersey Legislature, the General Assembly at 1986. Currently he is a state senator for the district of Lakewood.
This guy would sell his wife and kids; his religion and his God. He has no shame nor morals.
A Pathetic Murderer
On June15th, 2005, Barbara Sara, 76 years old, was walking across East Veterans Highway when she was struck by Mr. Singer's SUV. Ms. Sara suffered a concussion, a fractured arm, two fractured ankles and a fractured leg; she was put in critical condition and remained hospitalized for nearly four months. Bob was driving under the influence of alcohol. As the paramedics and Hatzalah rushed to the site of the crash Bob begged Mr. _____ from Hatzalah to get him out of there. Mr. _____ put him on oxygen, like this his mouth was covered and the cops couldn't give him the breathing test. The Hatzalah van drove very slowly to the hospital and by the time they got there Singer's blood was all clean….
This is the second such altercation for Mr. Singer. In 1991 he hit two (allegedly) intoxicated men who walked in front of his car.
"This woman was launched 12 feet into the air and went flying," said Sara's lawyer, Danielle R. Vaz, of the Eatontown law firm of Hobbie, Corrigan, Bertucio and Tashjy. Vaz tried unsuccessfully to persuade Judge Robert C. Blum to allow Singer's plea to be used in the civil case pending against the senator.
Sara was "properly crossing the street, when out of nowhere she was struck," Vaz said, noting the severity of the woman's injuries, which included two broken ankles, a broken leg and multiple fractures to her right shoulder.
Steven Secare, Singer's attorney, called the accident, which took place at the intersection of county routes 547 and 528, an "unfortunate incident" and said "We are apologetic and sorry for what happened."
Because Singer pleaded guilty to failure to yield, the two charges against him were merged, as is the common practice, and technically he was found not guilty of careless driving by Blum. He was ordered to pay a $156 fine and $33 in court costs.
Both Singer, who was Lakewood committeeman, and his attorney refused to comment following the hearing….
Singer has agreed to pay a $1.175 million settlement to end a lawsuit filed by Barbara Sara.
Has No Shame
After all of his reckless driving accidents Singer never saw the irony in sponsoring laws that deal with accident reporting or safety issues.
He sponsored a bill that increases the property damage reporting threshold for a motor vehicle accident from over $500 to over $1000. This reflects inflationary increases in repair costs. Current law requires driver involved in accidents in which there is injury, death or damage to property of any one person of more than $500 to immediately notify the police. The driver also must send a written report to the New Jersey Motor Vehicle Commission within 10 days if no police report is filed. A violation results in a fine of $30 to $100 and may include the suspension of both license and registration privileges.
Best of all is this statement from a Township meeting on July 16 2009
Mr. Hobday advised that at Pine Street and MLK Drive, he had previously requested consideration for a traffic signal at that location. That intersection is heavily traveled, and a traffic signal would be preferred. He understands that it is a controversial issue because of its close proximity to the traffic signal at Route 9.
Mr. Singer stated that part of the problem there is the way that people drive. He travels that road all the time and the violations are outrageous; people are on cell phones, paying no attention, and inch out half way into the intersection before they make the turn, and make that left hand turn into oncoming traffic. The answer to part of that issue is enforcement. It is a very dangerous area. They can not put traffic lights at every street. If they keep doing that, there will be no flow of traffic in this town. But he believes that the County is looking at this issue.
Too bad the victims of the Senator's reckless driving didn't have yellow dots on them.